Prices
Prices for our work will be fair and honest. We want you to have what you need with no hassles so you an manage your business - without having to worry about your website, media pages, email marketing, etc.
Over the years, we have evolved into an All-in-One Marketing Agency. We also provide a really "economical" website for a business that doesn't want to pay much to get Internet presence. Over time, we realized that philosophy is actually counterproductive to both the merchant and us as their Agency. As a result, we are offering new clients an All-in-One Internet Marketing Agency System. Let's face it, if you are serious about having an online Internet presence, you need to be everywhere on the Internet.

We do offer plans for everyone's budget.

Some people just want a good website, period! We do that as well - see our "Essential" Plan -  very economically too!! However, if your business is the type that requires an all in one system, we will really want you to consider this as the best solution for your business's future! 
---
Websites Services Plans
Our philosophy is to always support our business clients and keep all of the Internet "Problems and Issues" off of your plate. We provide real people support with live email and/or phone call support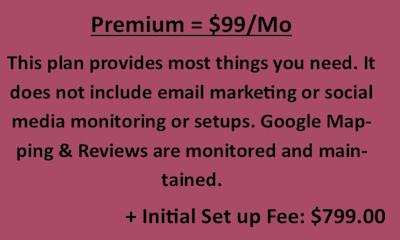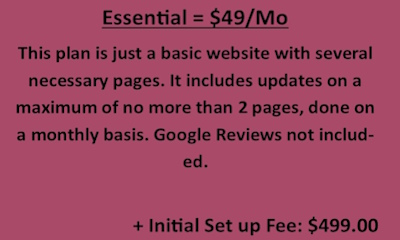 Our All-in-One Marketing Service is a complete setup and Maintenance for your Internet Business.

Initially, we will discuss your goals and opportunities, what you are currently doing and where you need to be. Once we have discussed all that, we will then start a full Internet Package for the Business.

These will include:
Build-out of a complete Responsive Website with a minimum of 15+ pages - content to be provided by Business. Adhere to new SEO rules, guidelines and policies to help website be well indexed in Google Search Results.
One email address with your domain name, such as - info@your domain name, Sales@your domain name, etc.
We will gather email addresses and Market to all customers with a Quarterly Newsletter (Business Owner content provided).
Establish a Facebook Business Page for Business Owner to utilize to promote business
Full Google Webtools, Analytics and Bing Webtools submissions for Indexing pages for Search Engines and maintenance for broken website URL's.
Establish a Google My Business Page and location Mapping of Business. Answer all "Review Star Ratings" within 24 Business Hours, as the Business Owner.
Establish an Instagram or Pinterest Page  for owner - whichever is the more appropriate? 
Complete Email Marketing System to be included with a maximum of 500 email contacts. Beyond that a special quote will be provided

All of these items allow the Business Owner to be the Business Owner and focus on their daily, monthly and yearly Business needs!!
---
eCommerce has become a huge growth industry and we are right there to help our clients get fantastic exposure of their products all over the world!! We offer an Awesome well established Platform to accomplish this  ~ Shopify. The complete package eCommerce Setup is included!
This would include Multiple Currencies and a Rewards/Loyalty App to help complement and drive more business to your cart. 
We utilize Klaviyo as the Email System for all our eCommerce clients. As stated above, up to 2,000 contacts are included with the monthly fee. Beyond 2,000 a special quote will be provided. Their System is Dynamic and provides up to the minute updates between the eCommerce Platform and email systems we will have in place to increase your Brand Loyalty and ROI with your ever-expanding client base.

"Special" cart Templates requested will be billed at cart system cost to client.
---
---
Questions? Or need help?? Contact Me