Branding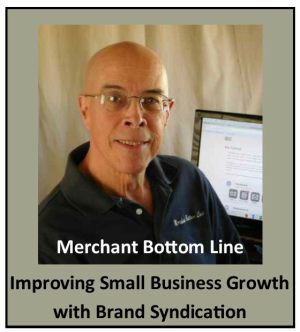 Our Branding page is dedicated to helping small businesses develop a strategy with a tagline and a "how to" mindset. We've all created or have a website. Many of us sit back and wait for the business search results to show us as the #1 result of the search engines. Guess what? Not gonna happen in this day and age!!

Branding is an all encompassing way to get the message out to any potential customer. A Tagline is critical to that end. We want to have a simple, yet effective method of illustrating our mission.
In my case - Improving Small Business Growth with Brand Syndication - is a very clear and concise message.

If you take each word and look at its meaning, you quickly realize what Merchant Bottom Line is all about. We are dedicated to "Improving | Small Business | Growth | Brand | Syndication".
Every business today needs to establish their Tagline and Mission statement and promote it as effectively as possible. Every opportunity needs to be made to carry that "statement" out to the world.
Brand Syndication is discussed in a separate page on here, but it is absolutely the next phase of Internet search results.
As mentioned in the first paragraph, up until a few years ago, all you needed was a good website, properly formatted with good SEO and correct picture size files and you would typically do well in getting found in search results.
Branding your business just helps everyone totally understand what you are about, have to offer; and, provides an Internet searcher with a good idea if your business description suits their needs. We've all searched for something and clicked a "link" that we think will take us to the site we really want - only to find out it isn't.
Branding your business Title and Description will greatly improve your being researched correctly. Even better - when someone clicks thru to your site - they will pretty much know exactly what your business is about! Should keep a researcher on your page longer, and reduce your "Bounce Rate" as well.

Example of your own Thumbnail versus a generic one from the video

There is NO Merchant Bottom Line Branding on this!

Merchant Bottom Line Branding on this one!

In the above example, the original video is just that - a video!
Now, we have added our own Branding Image and Logo as the Video Thumbnail, it has a custom audio lead in, a custom audio exit from the original video and our Branding name is imposed right on top of the Video.

---
We will delve further into this, but this is the starting point of Branding and why it is such an important tool to be used within your business.

---
Questions? Or need help?? Contact Me